BOOKS BY
FRANCES H. CASSTEVENS
313 Chestnut Street
Yadkinville, NC 27005
For autographed copies of my books,
Send check or money order to above address. 
Prices listed below beside each individual book.
Return to my Home Page: The Yadkin County Country Store
[Note:  All North Carolina residents please add .0675% N. C. sales tax to base price of book, before adding postage.]
REGIONAL HISTORY: Featuring North Carolina's Piedmont Counties
<![if !vml]>
<![endif]>
<![if !vml]>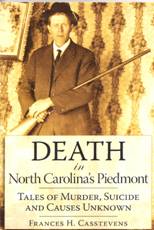 <![endif]>Death in North Carolina's Piedmont:  Tales of Murder, Suicide and Causes Unknown.*   
Price $20 (plus $4.00 postage). Paperback, published 2006 by The History Press, Charleston, SC. 
123-page book includes 10 true crime stories, some of which achieved nation-wide fame. Among the fascinating stories is the  murder of Captain James West, February 1863), in the skirmish at the Bond School House; the murder of hired-hand Will Kelly in the barnyard of the Dalton-Hunt house; the murder of Laura Foster for which Tom Dula was hanged; the murder of "Poor" Ellen Smith near the first Zinzendorf Hotel in Winston(-Salem), NC; the Lawson family murders on Christmas day, 1929; and the mysterious death of Zachary Smith Reynolds at Reynolda House in Winston-Salem in 1932.   
This book is a must for collectors of local history.   
 *Winner of the Willie Parker Peace Award presented by the North Carolina Society of Historians, Inc.
Regional Folklore and Ghost Stories
<![if !vml]>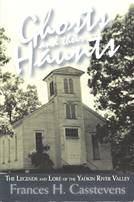 <![endif]><![if !vml]>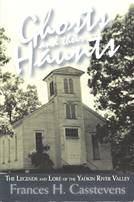 <![endif]>
Ghosts and Their Haunts:  The Legends and Lore of the Yadkin River Valley.
 Price $15 (plus $4.00 postage). 2nd Edition.  Paperback  published in 2007 by Catawba Publishing Co., Charlotte, NC.
This 158-page book is an assortment of ghost stories, legends and folklore from all the counties that border the Yadkin River:  Ashe, Alleghany, Wilkes, Watauga, Surry Stores, Yadkin, Forsyth, Davie, Davidson, Iredell, Rowan, Cabarrus, Montgomery, and Mecklenburg.  There are many previously unpublished stories,  including the legends surrounding the famous "Hunt House."
Great book for old and young alike. 
The War Between the States, a.k.a. the Civil War
Note:  All of my Civil War Books are thoroughly researched, annotated, referenced and indexed.
<![if !vml]>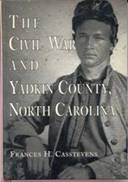 <![endif]><![if !vml]>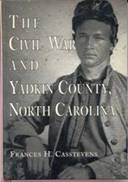 <![endif]>The Civil War and Yadkin County, North Carolina.*
Price $32 (plus $4.00 postage).  2nd edition, paperback, published in 2005 by McFarland & Co.
This was the first in my series about the War Between the States (1861-1865).  It provides the reader with an overview of life in Yadkin County before, during, and after that terrible conflict.  Included in an appendix is a listing of near 1,200 men who served in the CSA, CSN, Militia, or Home Guard, with a short description of their service, and other valuable information.  One entire chapter focuses on the events at the Bond School House, in which four were killed (2 militia men, 2 draft-dodgers in the school).  
The raid of General George Stoneman's Federal cavalry in the spring of 1865 through Jonesville, Hamptonville and Huntsville, is chronicled.  Civil War Trails markers are scheduled to be erected at those places, and several others in the county in the spring of 2008.   Capt. Reuben Wilson, shown on the cover, remained "unreconstructed " the rest of his life.
*Winner of the Willie Parker Peace Award from the North Carolina Society of Historians, Inc.
<![if !vml]>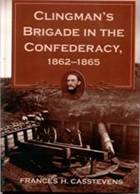 <![endif]><![if !vml]>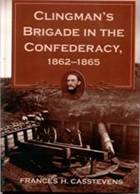 <![endif]>Clingman's Brigade in the Confederacy, 1862-1865. 
Price $45.00 (plus $4  postage)   Hardcover only, published 2002 by McFarland & Co. 
Thomas L. Clingman, born in Huntsville, Yadkin County, attended the University of North Carolina at Chapel Hill where he was one of their outstanding students.  He moved to Asheville to practice law
and enter politics.  He served in both houses of the U. S. Congress.   When South Carolina fired on Ft. Sumter, Clingman resigned to serve the Confederacy.  Clingman raised his own  company, and was elected colone of the 25th Regiment.  He was promoted to brigadier general, in charge of the 8th, 31, 51st, and 61st North Carolina regiments.   Although the regiment never received any fame, they were in the middle of some of the worst battles of the war:  Battery (Fort) Wagner on Morris Island, Drewry's Bluff below Richmond, Cold Harbor, Petersburg, Globe Tavern,  Fort Harrison, Fort Fisher, and the last bettle in North Carolina—Bentonville. 
The book focuses on the regiments of Clingman's brigade.  Included are two of Clingman's order books which show in detail the myriad of problems a brigadier general faced ever day in the management of a brigade.
<![if !vml]>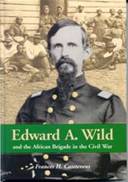 <![endif]><![if !vml]>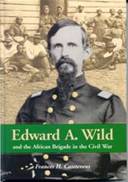 <![endif]> Edward A. Wild and the African Brigade in the Civil War.
Price $37 (plus $4 postage).  Published in 2003 by McFarland & Co.  Hardcover, 325 pages, photos, endnotes, bibliography, index. 
Despite being one of those hated  "Yankees,"  this was a man I cam to admire.  He accomplished much with the most severe handicaps—he lost his arm at  South Mountain in September of 1862, and the fingers of his right hand were injured badly.  Before the war, he was a doctor, but could  not return to that profession after his injuries.   A staunch abolitionist, Wild was enlisted to help train free blacks and former slaves for a regiment of entirely black soldiers.  He did so and he astonished the nation when, with his leadership, his African Brigade defeated the Confederate cavalry of General FitzHugh Lee at Wilson's Wharf on the James River in Virginia. 
Wild seemed to have a talent for getting in sticky situations.  After a raid into the northeastern counties of coastal North Carolina, he was criticized for taking three women hostage.  For that reason, and a combination of infractions of the rules and disobedience  to his superior officers,  Wild was court martialed several times.  He could have been facing prison had not General Benjamin F. Butler intervened on his behalf. 
After the war, Wild joined the Freedmen's Bureau in Georgia.  There, too, he got into trouble when he used excessive force against members of the Chenault family in Wilkes County, Georgia, in an attempt to learn the location of the missing Confederate gold.  General U. S. Grant was informed and he telegraphed orders that Wild was to be removed immediately. 
Edward A. Wild is one of those unforgettable characters who has been overlooked by historians.
<![if !vml]>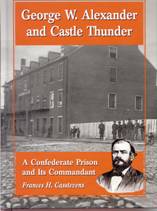 <![endif]><![if !vml]>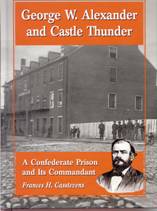 <![endif]>George W.  Alexander and Castle Thunder:  A Prison and its Commandant.
Price $42, hardcover; $32 paperback.  Originally published  in 2004. reprinted in paperback in 2007.
263 pages , photos, partial listing of prisoners held in Castle Thunder.
George Washington Alexander served in the U. S. Navy as an officer under Commodoer Perry in the history-making voyage to Japan in the 1850.  When he returned, and war broke out, Alexander resigned.   He joined Richard Thomas ("Zarvona') and several men in a scheme to capture ships in the Chesapeake Bay for the Confederacy,  After successful captures, the men were recognized, captured, and put in Ft. McHenry.  Alexander stayed as long as he could stand being confined, then escaped—the first recorded escape of a Confederate prisoner from a Federal prison.
He returned to Richmond and joined the provost marshal's office.  When a new prison was opened, he was appointed commandant of Castle Thunder.  This prison held Confederate deserters, spies, runaway slaves, women, and a variety of criminals.  Sometimes he instituted harsh measures of discipline, but Castle Thunder was the cleanest prison the nation.  This was probably due to his training in the Navy where ships are kept spotless.
Alexander had other talents.  While running the prison, he wrote a play, Virginia Cavalier, which was performed in Richmond.  To the delight of the audience, during each performance, Alexander, dressed in his black provost marshal's uniform and black hat,  rode his big black horse across the stage,  followed by his huge black dog, Hero.  His outfit was made even more severe by his black beard.
After the war, Alexander was on the 10-Most-Wanted list, and he fled to Canada.  He returned several years later when the amnesty laws were enacted during Grant's presidency.
Of interest to Civil War buffs, a partial listing of prisoners housed in Castle Thunder is included. 
<![if !vml]>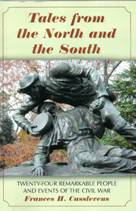 <![endif]><![if !vml]>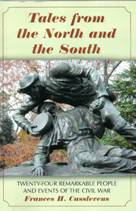 <![endif]>Tales from the North and the South:  Twenty-four Remarkable People and Events of the Civil War.
Price. $35.00 (plus $4 postage).
Shown on the cover is a statue that was erected at Fredericksburg, VA to honor the heroic efforts of Sgt. Richard Kirkland, who risked his own life to take water to injured Union soldiers who lay on the battlefield.  This is one of the many stories of unexpected gallantry and heroism exhibited by ordinary men and women, soldiers and civilians, during the Civil War. 
A chapter is devoted to Brigadier General Stand Watie, a Cherokee Indian who fought bravely for the Confederacy.  Miss Elizabeth Van Lew, a Richmond socialiate, was also a spy for the Union.Union Colonel Thomas Rose was the mastermind behind the tunnel dung under Libby Prison that allowed 109 Federal officers to escape.   General John Turchin and wife Nadine traveled together during the war.  She tended the sick and even took command of his army when her husband was ill.  They had migrated from Russia, learned English and attended college her.
Former slave, Mrs. Susie Baker King Taylor, taught blacks to read, and later was involved in the Women's Suffrage movement.  Dr. Mary Walker, the first woman doctor in the Union army, was awarded a Congressional Medal of Honor (and had it recalled).
These are just a few of the stories in this book.  It is an interesting and readable book, suitable for people of all ages.
<![if !vml]>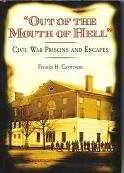 <![endif]>
"Out of the Mouth of Hell:"  Civil War Prisons and Escapes.
Price $55 (plus $4 postage).  Hardcover, published 2005, McFarland & Co.
This highly acclaimed book examines both Confederate and Federal prisons, a total of 27. Conditions in all were horrible, disease rampant, and the food bad to non-existent.  Each chapter features a prison, gives its location, capacity, and description of the facility.  Included are true stories of daring escapes and failed attempts.  Some plans were shear genius.
Only about 12 prisoners escaped from the Federal prison on Johnson's Island in Lake Erie .  One of those who did was Lt. Colonel John R. Winston from North Carolina.  He and his companions made their way across the ice to safety in Canada.  They then took a ship to Bermuda, and a blockade runner to Wilmington, then made it home to rejoin their units, a very long journey.
Some of the prisons are famous (Andersonville, Libby, Castle Thunder), while others are scarcely known (Danville, VA; Camp Davidson at Savannah, GA; Rock Island, IL; and Alton Military Prison, Alton, IL, Gratiot Street Prison, St. Louis, MO).
The escape of Confederate cavalry officer, John Hunt Morgan, and a few of his men, from the Ohio State Penintentiary is one of the more interesting stories.
The ability of men to survive in the most horrible conditions, much less escape, is almost unbelievable , as can be seen from some of the stories in this book.
The 28th Regiment, North Carolina Troops is available now.